Cabrillo Format
Below is the example of a Cabrillo template and log file that was converted to Cabrillo. You final log should look like this when submitted.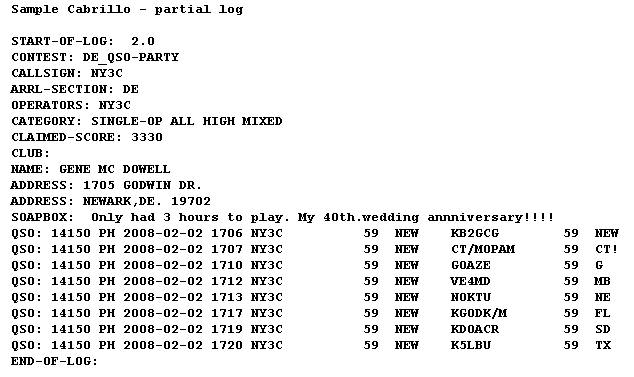 Column Numbers Field
1-4

"QSO:" (do not put the quotes in!)
6

Frequency (NOT BAND)
12

Mode (PH/CW/PS for Phone/Morse Code/PSK31 or other digi modes)
15

Date
26

Time
31

YOUR call sign
45

RS(T) sent
49

Exchange sent
56

OTHER stations call sign
70

RS(T) received
74

Exchange received
Notes:
All times are UTC
ARRL-SECTION: tag (or v3.0 LOCATION: tag) is used to identify DE stations in log checking software. ie: ARRL-SECTION: DE or LOCATION: DE.

All non-DE can be ARRL-SECTION: EPA, LOCATION: PA, LOCATION: DX etc.

Band can be the actual radio frequency ex: 14235 or band identifiers ex:14000.
Valid modes in Cabrillo are CW, PH and RY. All non-CW digital modes are RY in Cabrillo.
Cabrillo log filenames are urCall.log or urCall.cbr - where urCall is your callsign.